The latest Waverunner fish finder is the same as the FC500 however, if you don't want to opt for the Detailed HUMMINBIRD priced at £499 we can permanently install the FC500 unit in side you boat for you for £399 including VAT. Unlike Waverunners version, all wires and cables will be kept inside the boat neat and tidy. Please get in touch for more details.
New for 2012
Waverunner Fish Finder to fit all models of the twin hopper Waverunner Bait Boat
Very easy to set up, install in just a few minutes.
However, take a look at the HUMMINBIRD fish finder unit which we can permanently install in side your boat.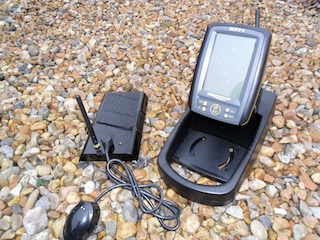 Details:
Product Description
Bait Boat Fish Finder WFF1-Big Screen, 300m RC Distance
Display size: 4.5in, FSTN LCD
Display Resolution: 240 x 128 Pixels
Grayscale: 4 Levels
Backlight: On / Auto
Visible under sunlight
Language: English / German / French / Russian
2. Sonar & Radio
Depth Capability: 0.6~30m
Wireless Operating Range: Max 300m
Sonar Frequency: 455KHz
Sonar Beam Angle: 80deg @-10dB
Radio Frequency: 433.9MHz
Sonar Alarms: Fish / Shallow / Low Battery
Monitor and Display Real-time Voltage of
Bait boat Battery
3. Technical and casing
Sensor Cable Length: 1.2ft
Sonar unit size: 153 x110 x 44mm
Portable Case Size: 262 x 150 x 98mm
Operational Temperature: -10° C ~ 50° C
Water & Air Temp. Included
IPX7 Level Waterproof Casing Design
4. Power
Control box Power Supply: 6~12V
Sonar Unit Power Supply: 8 AA Alkaline Batteries
Features
1) Magic grayline feature defines hardness of bottom.
2) Zoom Capability to magnify the sonar image.
3) Built-in temp sensor in transducer.
4) Display target depth reading above each fish symbol.
5) Displays fish targets at higher boat speeds.
6) Feature memory remembers settings.
7) Fresh / Salt water environment.
8) Rugged portable case gives the full protection to Fishfinder while in storage or transport.
10) Sensitivity, Depth Range, Noiser Filter, Zoom, Alarm, Magic Grayline, Control.
11) Full one-year warranty
Fast and easy to install. Do it on the bank side!
Usually always in stock ready for collection or dispatch