Customers Who Viewed This Item Also Viewed
Regular Price: £4.99

Special Price £3.99
Product Description
For all sales, service, repairs and upgrades please contact Joe @ Bait boat solutions 07931616997.
A high quality, hand crafted boat unlike any other.
The first propeller boat that can actually be operated through most weedy waters.
Over engineered, this stunning Bait-Boat will honestly stand out from the rest.
Not Just in looks but Performance too.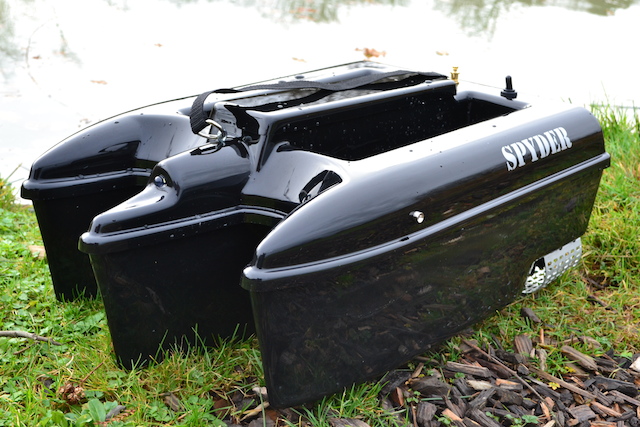 Over 12 months to develop, design and pro-to type with no expense spared and no other boat compares. Guaranteed.
Quality, Unique, Robust, Durable - Here we have the highly anticipated Black Widow, SPYDER Bait Boat
The Boat is now only available in a stunning gloss black.
Very stylish and easy to operate, this MK2 Spyder is very popular amongst carpers across the UK. A unique hopper drop mechanism which features a 3mm stainless steel rod under each hopper door which simply retracts in & out to release the hopper door. Unlike what you'll find on some other boats, there is no latch to get stuck or magnets which could give way. Flawless.
Remember, unlike most other boats available, this Spyder is 100% built from the ground up here in our factory in West Sussex. We'll also boast that Spyder is the only bait boat company which are open six days a week (closed first Saturday of each month) so you won't find us sneaking off early on a Friday. In the rare circumstances you experience any difficulties or simply want to ask a question, we're here for you...01403 784055.
About the Spyder Boats:
The Black Widow Boat has been developed by not just Anglers but a team of ''Radio Controls Geeks'' for over a year. Combined, our team have over 35 years in RC (radio control) knowledge which is essential when creating what we believe to be quite simply one of the all round best bait boats ever to hit the UK fishing Scene.
This machine has been especially designed for carp, pike & cat fishing in mind. Large waters, small waters.
You may see many boats being either too large or too small so this is where the Spyder boat comes in to its own. Perfect, manageable size.
Features - two great sized hoppers which are capable of taking out up to 1.5 kilo of any bait in each hopper and your rig.
This is the fastest boat ever made in the UK and you get up to a three hour running time per battery charge which is an unbeatable combination. Mainly down to many months of lake testing various motors, shafts, speed controllers and propellors to achieve the best speed, strength and battery consumption.
Boat Dimensions: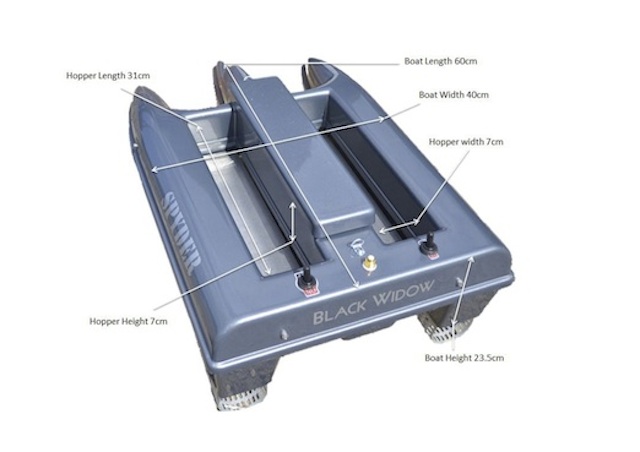 Please note that now on every boat the lights are controlled via a switch on the remote handset.
There is now only one switch on the rear of the boat (mains power).
Remote Handset:
New remote on 2.4ghz Digital (internal boat aerial)
Now with single right joy stick steering
Requires 8 x AA Batteries (DURACELL Recommended)
The First Propellor boat to go through thick weed:
Product Features:
The fastest bait boat built in the UK to date with gradual control. This is great when heading out at distances. If you don't like to go fast, just ease back on the controls. By doing so you'll increase your boats running time by an extra 30-50%.
Up to three hours continuous running time on one fully charged battery (depending on conditions). Boat requires 1 x 12 volt 9amp hour lead acid battery to run. The package will come with a spare battery as standard.
Perfect sized boat, not too large and not too small.
Twin Independent Hoppers (good length) with a flawless dropper design.
Wireless operating range of over 500 metres.
Lights are now controllable from remote handset, not boat.
Extra deep Tri-Hull design. This gives the boat extra stability for choppy waters.
Bright white L.E.D light in each hopper. For use when baiting up at night.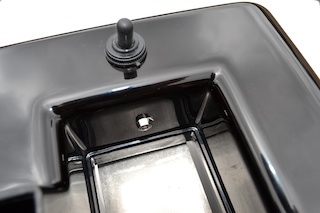 Solar Panel charging socket (Gold) This socket on the rear of the boat will except most 12volt bait-boat solar panels (see accessories)
Main Power Switch and Solar Panel charging socket: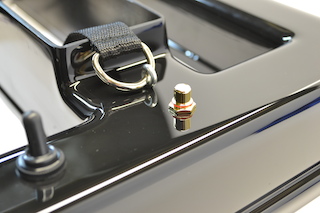 10mm white Light on front of boat, two smaller 5mm blue lights on rear and red/green on each side. Most bulbs are held in place with Chrome Bezels for that lovely finishing touch.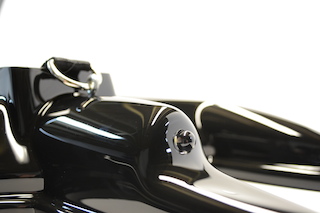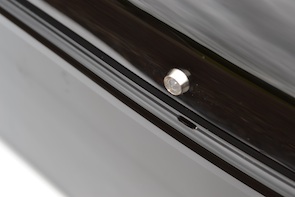 Another great and simple feature on the Spyder boats is there is an internal standard 7.5 amp car fuse.
So in the rare circumstances weed, twigs or line did get caught around a propellor rather than blowing any of the electronics the fuse should blow first. Simple. Many other boats don't have that feature.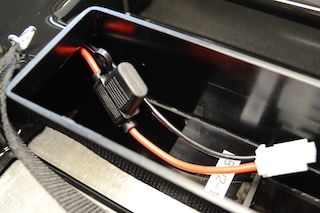 Boats Available in acrylic capped ABS plastic.
Custom made weed guards formed from aluminium.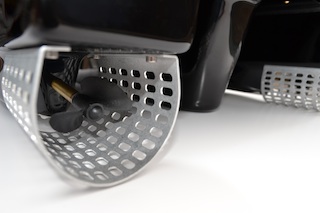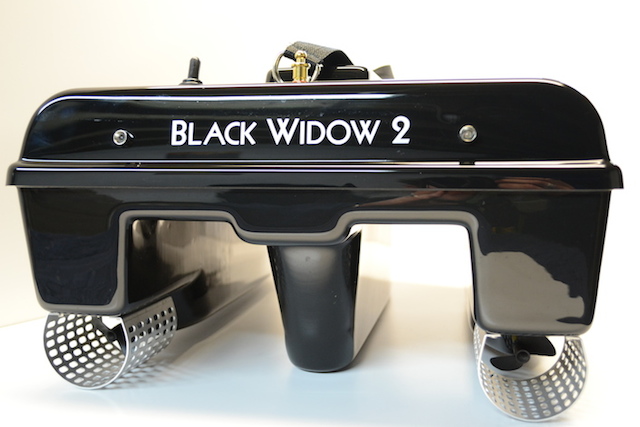 Quality Brass shafts and couplings used on each motor: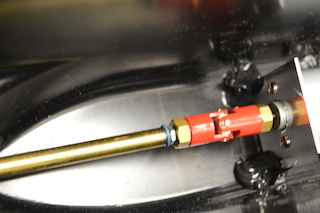 As well as grease filled shafts to give the ultimate smooth performance.
Many boat parts are Hand Crafted in our work shop in Sussex.
Even the carry strap is made in house: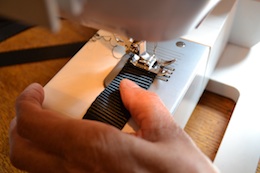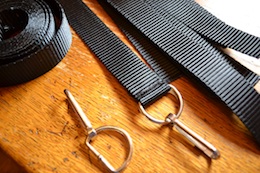 Locally Produced?
We believe in keeping as many items for the Spyder boat purchased as close to home as possible or at least within the UK.
The Hopper doors and Weed guards are from East Sussex
Motors, Shaft's and Propellors from Telford
LED's, bezels and cabling from Colchester, Essex.
Below pictures of the cast mould just before the plastic forming takes place: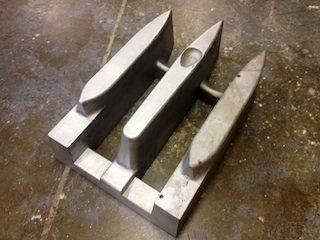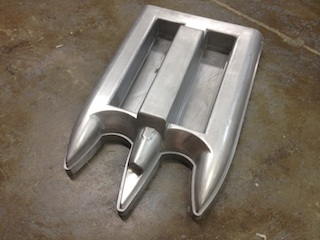 Below is just some of the 'Branded' Components used.
Two M-Troniks Viper Marine speed controllers.
These are totally waterproof as well as having a failsafe built in. Known throughout the model boat world of being the best Marine Speed Controllers ever made.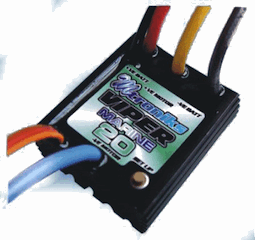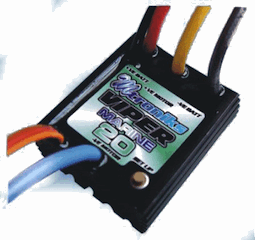 Two Hi-Tec Servo's.
Extremely reliable and have been known to last for many years of hard use. Combined with precise resin gears and SMT circuitry.
We do our own bit of magic to these servos before fitting to the Spyder.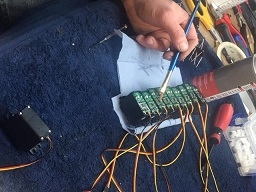 All L.E.D's are pre-wired and treated in house: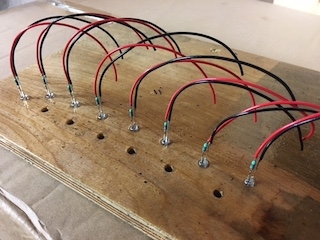 Believe it or not, we have had a servo working under water!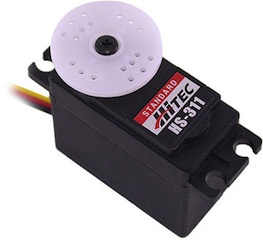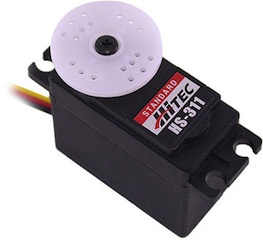 What we think:
Many bait boats nowadays are controlled internally by circuit boards. In our own opinion are a Big No No.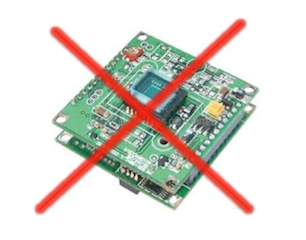 Here at Spyder we believe 'How it used to be' is the way forward in radio controlled boats.
This costs far more to produce a boat however, is much more reliable and parts are easily replaceable/available.
As you will see for yourself there has been absolutely no expense spared with these Bait Boats.
It takes almost two days to hand build each boat alone. Quite simply some of the best internal parts are used which means absolute reliability.
Do you really need a reliable boat?
For example, Bait-Boats unlike a TV or Microwave doesn't just sit on a shelf.
Their on the move in all sorts of weather conditions all year round so these need to be made very well or faults will occur.
We can honestly say you'll be blown away by the build quality and sheer robustness of the Spyder.
What do you get?
Heavy Duty 12 volt 9amp hr Lead Acid Battery + a spare HD Battery worth £29.99
Fast charger for batteries
User manual
There is a deluxe padded bag with end pockets and removable mat available for £69.99 (recommended)
Accessories Available:
Deluxe Padded Boat Bag £69.99
10-Watt Semi Flexible Solar Panel £99 (maybe cheaper at present time)
Spare Heavy Duty Boat Battery £29.99
12v LED Battery Tester £19.99
12 months full warranty including P&P charges within the UK.
UK after care sales/service 9am-5pm five days. Saturday 9-3pm. Emails answered seven days.
More Pictures: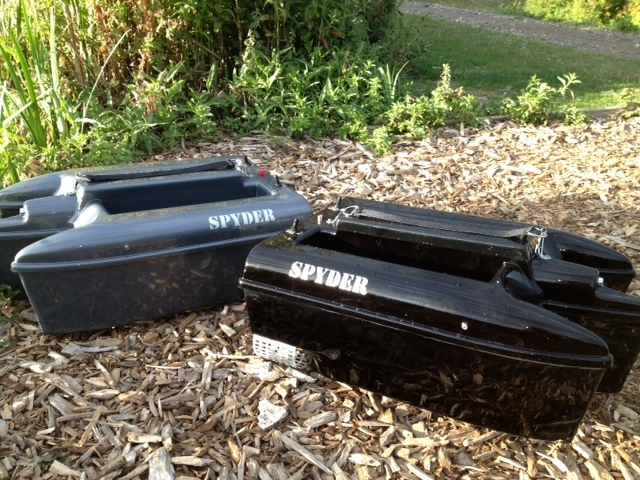 01403 78 40 55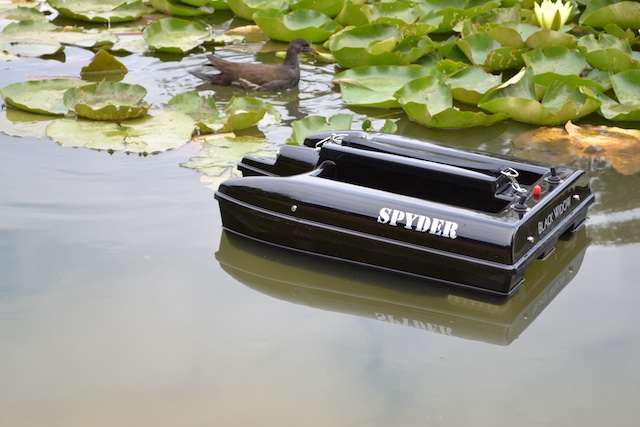 *****AS FEATURED ON CHANNEL 4's GADGET MAN*****
-------------------The Great out doors episode-----------------
Fish/Feature Finder/Echo Sounder Fitted for £1444
New for Summer 2015 the Toslon TF500: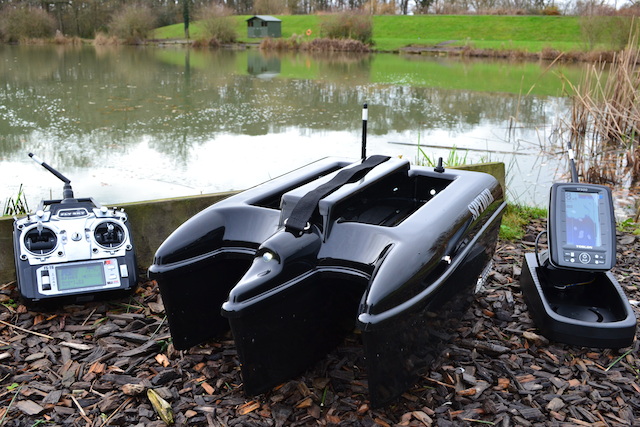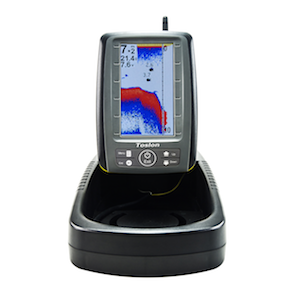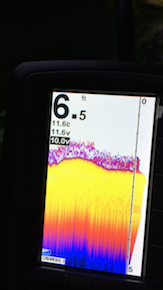 Specifications and Features:
Display size: 4.3"TFT LCD; Sunlight Viewable
Resolution: 480*272Pixels; 65,536 color
Language: Multi-language
IPX6 Level Waterproof Casing Design
Sonar
Depth Capability: 30m (100ft)
Sonar Frequency: 115Khz
Sonar Beam Angle: 60deg @-10db
Sonar Alarms: Fish / Shallow / Low Battery
R/F
RC Distance 300m plus (1000ft)
Wireless Radio Frequency: 2.4Ghz, Digital
RF Channels: 20
RC Power: 20dBm
Power of Display: 6~12V lithium/lead acid battery or 8 x AA Batteries
Power of Transmitter: Powered by bait boat battery or DC6~12V/2.0W
Sonar unit size: 153 x110 x 44mm; Portable Case Size: 262 x 150 x 98mm
Operational Temperature: -10°C ~ 50°C
Water Temp. Included in Transducer
Extreme stable wireless performance even in bad condition
Display target depth reading above each fish symbol
Big / small fish identification
Rugged portable case for a full protection of the fish finder
Full one-year warranty
The below picture this Toslon is being tested on a very clear but weedy water. The weed is very thick and dense however the unit is picking up signal from the top of thick weed to the surface of the lake. This is great for working out how far weed is from the lake bed. However please note if weed structure is not as thick then the red lined image as pictured above should appear.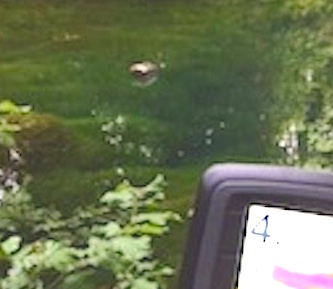 It's advised that on most fish/feature finders you keep the fish I.D setting turned off as this should then show you more bottom structure however, if your after finding those sneaky fish, as shown on picture below the fish symbol should appear and the number displayed above them is the depth of the fish from the surface.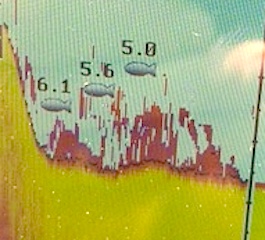 The underside central hull of the boat with the transducer (sensor) siliconed in place: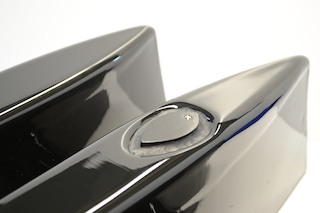 If we have a Spyder boat complete it should take no longer than 48 hours to fully fit and lake test before sending.
For more information on the Toslon TF500 & TF640 please see the main listings under the ''fish finder'' section on this web site.
We can now fit the Toslon TF640 Finder & GPS in one to a Spyder Add £849. This can only be fitted on the MK2 boats.
If you would like to purchase the Spyder bait boat with either of the finders via our web site just simply add your required item/s to your cart then once paid for we'll automatically fit it then once ready for sending we'll get back in touch with you to ask which day is best for delivery, simple. Please note we have to ship all bait boat packages to the card holders address.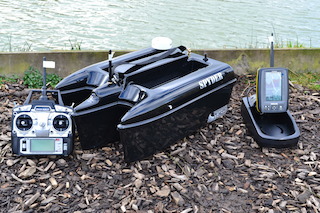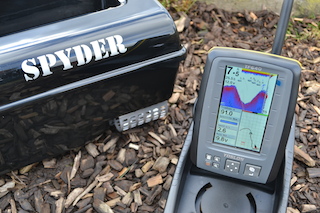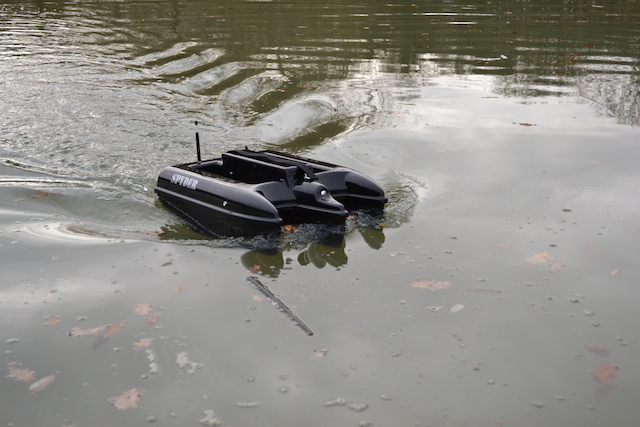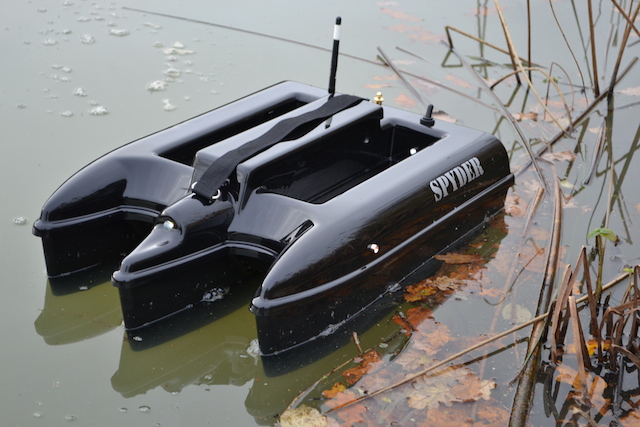 Every Spyder boat is fully lake tested.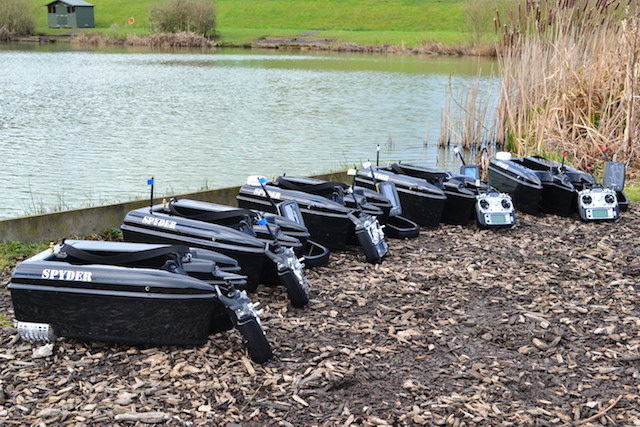 Please note there maybe up to a four day wait for a boat with either of the Toslon's fitted, we will call or email you once order is placed to let you know.
Pictures of the Spyder bait boat in this listing as well as the description could be subject to minor changes at time of sale.