Customers Who Viewed This Item Also Viewed
Regular Price: £69.99

Special Price £39.99

Regular Price: £29.99

Special Price £24.99

Regular Price: £19.99

Special Price £14.99

Regular Price: £94.98

Special Price £79.99
Product Description
New for Spring 2018, now on 5.8ghz Digital radio system meaning even more less likely to suffer from interference.
Always receive the latest versions from us!
Every Shuttle Package Purchased from us comes complete with: 5 - Watt Solar Panel worth up to £90, Spare pair of batteries worth £24.99, Rechargeable handset batteries (4 x AA), Two mains battery chargers, manual all ready to go.. One years full warranty.
Also easier battery opening lids appose to having to unscrew eight screws in order to change the batteries in the boat. Very handy!
Latest Improved Features:
*Digital means Its nearly impossible to get interference from other Bait Boats on the same water
*Wireless operating range is over 1000 metres!
*Smaller main boat aerial
*More robust power switch
*New Easy Battery opening lids
*Designed with all main features as the Waverunner and Atom but at a smaller scale
*Designed with one long centrally located magnetic hopper drop ideal for perfect rig presentation
*Hopper capacity up to 1.5 kilos of any bait including dead or live baits
*Turn boat lights on/off from handset
*LED battery meter on boat which displays the power in your batteries
*Robust carry handle on boat
*Failsafe mechanism, means if you lose signal from handset the boat will automatically spin round and head back towards you!
*Patented hook release system
*Over 2 hours running time on one fully charged set of batteries
*Front and rear LED lights
*Handset battery low warning light
*Boat measures just 48 x 30 x 18cm
A small, lightweight but sturdy compact boat which is a great seller of ours. Easy to operate, this boat won't let you down. A great feature is a rear line dropper which enables you to drop your rig separate from your hopper. You can still take out your rig via your hopper if you wish.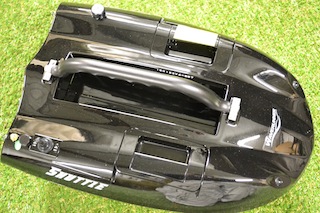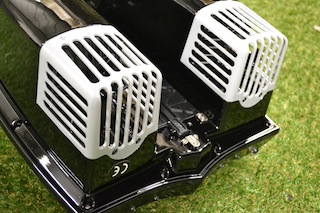 For bags, Please see the 'Bags' section on this web site.
We can now install the TF500 feature finder to this boat (Please see Fish Finder Section) Add £545.
Simply add both items to your cart and we'll fit the finder automatically.