Product Description
Yet another top quality product from one of the worlds leading Bait-Boat companies, ANATEC. A fast and stable boat fit for most types of fishing.
Easy to use and made with some high quality components from Graupner, Germany. Two years full UK warranty (Graupner Parts) handled by ourselves including P&P charges.
Available now in this new striking Ivy camo design.
Weight: 6 kg (including battery). Drives using a single motor and unique rudder steering system. Powered using a single 6v 12ah Lead Acid Battery giving you 90 minutes of continuous running time at a Maximum speed of 1.3 m / sec. Bait capability of 1 kilogram.
Dimensions: 75 X 35 X 36 cm.
All the internal parts are easily assessable, great for self maintenance.
Picture from underneath the boat. Propellor and rudder: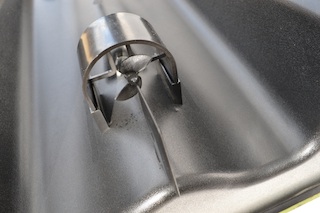 The great feature of all Anatec boats is the simplicity of easy accessibility. Another important point about the Anatec's is they DON'T USE PCB boards unlike some other model boats. We say this because electrical boards don't like damp weather.
Comes complete with:
Standard boat bag worth £19.99
Spare boat battery worth £27.50
4 x AA Batteries for remote handset charger, all ready to go...
Note: The boats are now available in IVY colour as seen on first pictures.
We can now install either the Toslon TF500 or TF640 finders to this boat. Please see Fish Finder section on this web site for more details.
The last two pictures are taken with the TF640 installed (Not included in this listing)