Product Description
The Anatec Catamaran with brushless motors and Lithium batteries.
A brief video of this boat in action...
This amazing boat has just got better! Now weighs less and goes faster, much faster!
To date, this is the only bait boat we sell like of it's kind.
Brushless motors run much faster than your conventional brushed motors.
These are powered by Anatec's own high quality 7.4volt 12amp Lithium batteries.
These are the same size as lead acid batteries however weigh only quarter of the weight.
When you combine weight loss with faster motors the results can really be seen.
NOW RECEIVE A FULL TWO YEAR WARRANTY AS STANDARD POSTAGE, PARTS & LABOUR
Key Features:
Dual Independent Hoppers.
Rear Line Dropper for your rig.
LED Battery Display.
Digital 2.4ghz Radio Transmitter.
Remove the boat lid in just seconds which exposes all internal parts.
Twin, powerful motors which propels this boat through water Great. Fast and powerful.
Guaranteed the best back-up service either in store, online or over the phone.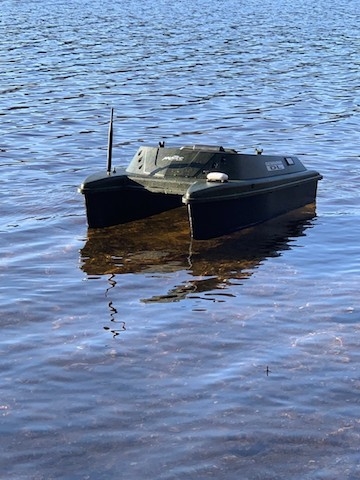 On the larger scale of bait boats this Anatec Catamaran Devict Oak is generally classed as ''The Daddy'' of bait boats.
The Catamaran boats have been in production for 25 years now so there doing something right...
This brushless boat powers through the water lovely, she doesn't hang around.
Rear line dropper for your rig of which doesn't have to be used as you may place your rig up in side either of the two hoppers.
About Anatec's:
The Anatec brand is the worlds largest bait boat company. Trading for 25 years now, they got it spot on with their boats.
This Catamaran is a cracking boat.
Very buoyant and sits well above the water line making it perfect for those choppy waters and to see at distance.
Six super bright white LED's on front of the boat which produces more light than most other boats.
These are controllable from your remote handset.
There are also two 10mm Red LED lights on rear of boat.
What do you receive?
Standard boat bag (Deluxe Padded Available for £79.99)
Grease can for shafts
Necessary chargers, manual all ready to go...
Fancy adding a Fish/Feature finder?
We can install either the Toslon TF500, TF640 finder & GPS in one and now the TF740.
Please note all finders are fitted to order. Once order is placed we usually get the finder fitted and lake tested then ready for sending within two working days.
Please check out the finder section on this web site for more details.
24 month full UK warranty handled by us here at The Cabin which includes postage, parts and labour.
Please note warranty is not covered on breakages such as switch's on remote or cracked hulls.
Either water damage to remote so please don't let it get wet.
We're not going to give a free Anatec away to so called famous anglers to promote our boats. We don't have to...
Don't forget, we now offer zero % Finance on any package over £500.