Product Description
The newer and much improved TF500 (FC500) Bait Boat Colour Fish/Feature Finder on 2.4ghz Digital.
Price includes fitting and Lake Testing on your Bait Boat (Not available on some boats) Colour doesn't necessarily mean more detail than black models however, on this unit their has been many improvements which does include much more detail.
The best feature would be the world's first wireless bait boat fish finder for the frequency to be on 2.4ghz (Digital) which means unlike most other fish finders which work on the same 433.mhz frequency and signal clashing can be common on busy waters, this TF500 is now on Digital, which means in most cases it will eliminate any other signals from bait boats on the same water.
Also with one of the largest LED lit display screens available you should have no problem in viewing the structure, features and fish from underneath your boat. We have found though, if you keep the fish I.D setting turned off, your more likely to see more structures like weed and snags etc... A much improved wireless range also which now boasts 300+ meters.
We can fit this to every bait boat we sell on this web site. Simple add it to your basket with your required boat and we will fit it automatically.
As you can see the depth reading is now accurate to under 12 inch's of water (9 inch's as shown on picture below) however the lake bed would have to be dead flat in order for the sonar to read perfectly. If the lake bed is weedy or uneven you'll need to ideally be in 5+ feet of water for better, more accurate readings.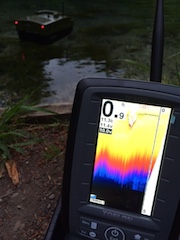 The below image shows the TF500 unit in 6.5 feet of water. The Red structure image above the yellow display indicates that the bottom of the lake is either very silty or in this case soft weed: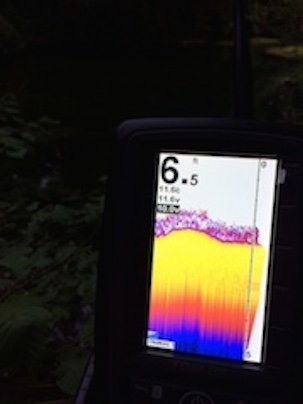 Specifications and Features:
Display size: 4.3"TFT LCD; Sunlight Viewable Resolution: 480*272Pixels; 65,536 color
Language: Multi-language Monitor and Display Real-time Voltage of Bait boat Battery IPX6 Level Waterproof Casing Design Sonar Depth
Capability: 30m (100ft) Sonar
Frequency: 115Khz Sonar Beam Angle: 60deg @-10db
Sonar Alarms: Fish / Shallow / Low Battery R/F RC Distance 300m plus (1000ft) Wireless Radio
Frequency: 2.4Ghz, Digital RF Channels: 20 RC
Power: 20dBm Power Power of Display: 6~12V lithium/lead acid battery or 8 x AA Batteries
Power of Transmitter: Powered by bait boat battery or DC6~12V/2.0W Technical and casing Sonar unit size: 153 x110 x 44mm; Portable Case Size: 262 x 150 x 98mm Operational Temperature: -10°C ~ 50°C Water Temp. Included in Transducer Features Extreme stable wireless performance even in bad condition Display target depth reading above each fish symbol Big / small fish identification. Rugged portable case for a full protection of the fish finder Full one-year warranty (Limited if installed by yourself)
The below picture this Toslon is being tested on a very clear but weedy water. The weed is very thick and dense however the unit is picking up signal from the top of thick weed to the surface of the lake. This is great for working out how far weed is from the lake bed. However please note if weed structure is not as thick then the red lined image as pictured above should appear.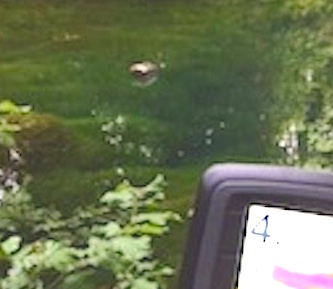 It's advised that on most fish/feature finders you keep the fish I.D setting turned off as this should then show you more bottom structure however, if your after finding those sneaky fish, as shown on picture below the fish symbol should appear and the number displayed above them is the depth of the fish from the surface.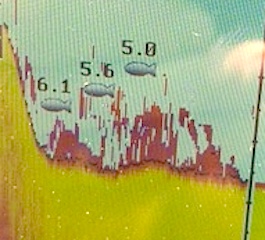 Power: Base units requires 8 x AA Batteries (DURACELL Recommended) 12 Volt battery adaptor kit available for £29.99 Sonar/device in boat power supply choice of 9v PP3 or mini 12v lead acid battery (preferred) We also sell a bank stick adaptor bracket for this unit for just £5.99. All you need is a long bank stick to attach to the base unit of the screen which then makes it hands free! (Advised if using over 200 yards)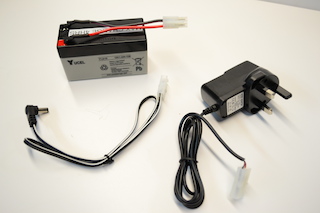 We now sell an external battery kit which powers the screen direct rather than using 8 x AA batteries which have to be removed every time you finish your session. This little battery you charge up from home (only 4 hours) then it plugs direct in to the 12 volt socket on the rear of your base unit. The battery then can tuck under your screen and should power the screen for over 6 hours. You can buy this online under the Fish Finder section.
Also recommended is this great quality Tri-pod we sell for £34.99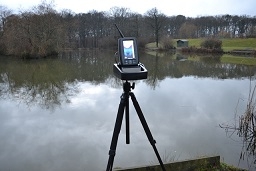 With your screen being 4-5 feet off the ground significantly increases your signal strength.