Product Description
Toslon TF640 Bait Boat Fish / Feature Finder and GPS in one!
Now features a smaller GPS compass, please see second main picture.
Note: We now fit the GPS compass in side the boat.
GPS meaning you can store over 500 different locations on as many lakes as you require all over Europe then remotely take out your boat to the exact stored spot. Accuracy within 1.5 metres. Very clever stuff!
Price includes full installation by ourselves on most of the Anatec range of Catamarans, Mono Hull, the larger Waverunner MK2/3/4, and now the Waverunner Atom.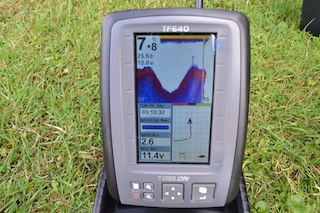 TF640GPS/SONAR/COMPASS
Navigation Sonar system TF640 was specially designed for many kinds of bait boats. It was combined with high Position accuracy GPS, digital wireless sonar and electronic compass. The GPS system lets you guide the boat to any saved waypoint. The advanced sonar feature shows you actual bottom condition and fish, and the electronic compass indicates the boat heading direction on screen which make it possible to operate the boat under bad condition, such as night, thick fog etc.
GPS Position Accuracy: 1metre and operating Distance 300 metres 500.
Digital Wireless Sonar with 80ft depth range; Sonar frequency 455kHz; 4.3" TFT with resolution 480*272 Pixels; 65,536 colour
Digital means this unit is one of very few which being on 2.4ghz (Digital) you should not clash with other feature finders on the same water.
KEY FEATURES
GPS and Compass
GPS data display show: Distance to target, Distance to Home (Your Swim) Speed of boat, Time to Board, Satellite Number, Heading,Bear, Course Memory, Time of day, Main Battery Voltage.
Compass indicator of the instant boat heading direction on screen (a red "+" on screen indicate the target)
Indicator of the position and distance to target waypoint and HOME
Boat arriving alarm
Signal lost alarming
Indication of satellite condition by colour bar: red(0~satellites); Yellow(3~6); Blue(?6)
Show the current position as latitude/longitude in decimal degrees
20 RF channels allow different users operation at same region without interference
Detailed waypoint information including icon, name, date, etc
Zoom in/Out route display
Sonar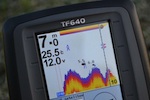 Adopt brand new digital wireless sonar system.
Real time sonar windows display the latest sonar returns.
Colour Line separates fish and structure from the bottom, and defines bottom hardness.
Display target depth reading above each fish symbol as a guide for quick and precise lure presentations.
Sonar alarm: fish / shallow / low battery (boat battery and display battery)
Windows style of menu system and user friendly.