Product Description
NOW RE NAMED SCAVENGER
This Waverunner MK4 has some great features including, a magnetic hopper drop system which means unlike a catch system which is what you'll find on some other boats you can be guaranteed that every time you operate the hopper drop switch your bait door will open and not get caught. Clever!
Another great feature is twin rear line droppers. These do not have to be used as you may put your rig up in side either of the hoppers however if you wanted to try and use a different fishing tactic, drop your rig slightly away from your main bait presentation. Just a tip...
Packed full of great features and looks the part to!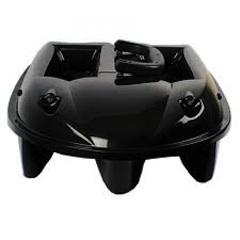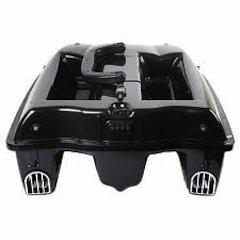 This is the latest 5.8ghz Digital edition.
A Bait Boat First, now on 5.8ghz Digital means your even much less likely to suffer from interference from other Bait Boats on the same water. About Time!
This most recent boat now also displays the boats battery power on the screen on your boat remote. Very Handy!
The boat aerial is now even shorter around four inches long.
Product Features:
* Twin independent hoppers with patented hopper release system
* Excellent for all baits including particles
* Twin independent rig holders with patented hook release system
* Stainless steel weed guards
* 10 ultra high intensity LED's
* Tri coloured battery meter
* Remote Lighting control
* All lights can be operated from the hand set
* Range 500 to 1000m depending upon weather conditions
* 2hrs+ Running time at max speed on a single charged battery
* Total of 4kg bait capacity
About Waverunner Bait Boats:
There are three boats in the Waverunner range that we sell.
The Shuttle, Atom and the Twin Hopper Waverunner MK4 '5.8ghz'
Here at The Cabin we've been dealing with Waverunner boats since 2008 and we are now Waverunners largest customer. Unlike tackle shops, we also offer repairs in our workshop and unrivalled advice on all bait boats we sell. Easy to use and proven over time to be ultra reliable.
As you'll see under our Waverunner spares section, most spares are available which is great for knowing that in the future in the rare instance a fault does occur and the boat is well out of warranty, spares can be purchased and in most cases installed yourself (Unlike some boat companies)
Waverunner shells are designed by CAD and constructed with solid injection moulded plastic.
A rubber gasket squashes between the top and bottom hulls, which ensures the boats are 100% watertight.
Super bright L.E.D lights all round, which can be operated from the remote control handset.
Side & rear lights flash to let you know when you have opened either a hopper door or rear line drop release. The rear line droppers don't have to be used as we found many customers to actually place there rigs in side the hoppers because of there length which makes better rig presentation.
Latest 5.8ghz digital radio gear improved from 2.4ghz. Meaning less likely to clash signals with other boat users on the same water.
Conclusions, Waverunners are a massive presence in the bait boat scene here in the UK. Look sleek as well as performs great too…


Handset and battery charger 4 x AA rechargeable Batteries for the handset, aerial, all ready to go... That's more freebies than any other place...Not to mention the great back-up service we offer.
Fancy Adding a Fish/Feature Finder?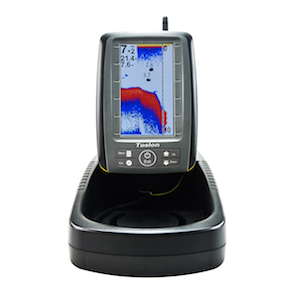 The Toslon TF520 Echo Sounder on 2.4ghz Digital, Add £645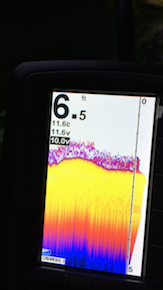 A very much improved unit from the original TF500, this new device is also on digital so you're very unlikely to clash with other units or baitboats on the same water. Please see main Toslon Listing under the fish finder section on this web site to see the full specifications.
Each unit is internally installed inside the Waverunner boat. If you would like to purchase this package via our web site just simply add every item you require to your cart and we will automatically fit the Toslon to your boat.
We can now also add the Toslon TF640 Finder & GPS in one! Please again see fish finder section on this site for more details.